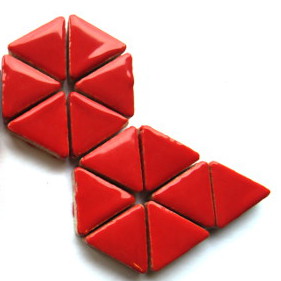 •We took a 40mm-diameter circle and cut it up into parts to create the mold for our new crazy Bullseye pieces. Curves, Arches, Waves, S-Bends, Fans...a whole new language of shapes is instantly created. The mix is made up of: a quarter Curve with an inner diameter of 10mm, a larger quarter Curve with an inner diameter of 20mm, and a quarter Circle with a diameter of 11mm. All are 5mm thick.
•Next up? Equilateral Triangles in 15mm, and finally, Rectangles in a 3 size mix: micro, mini, and small.
•Wonderful for making the Art Nouveau and Deco designs that are all the rage in home furnishings. And no cutting! What could be better?...our fabulous mix and match colours! Due to the mix in sizes, the quantity per weight may vary. These tiles are not suitable for outdoors unless the backs are sealed first.


We wrap and package orders carefully to avoid damage and breakage, however, due to the nature of glass, ceramic, and porcelain, damage may occur in shipping. All tiles and accessories are shipped at your own risk.
*PLEASE NOTE THAT THIS PRODUCT IS SHIPPED AT YOUR OWN RISK*