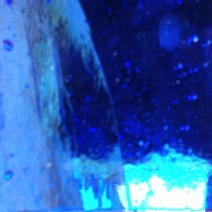 This range of coloured mirror consists of 3 main groups:
Embossed Mirror: This collection was specially created for us, using the traditional silvering technique of Silver Nitrate then a custom rubbing compound is hand applied and polished to seal the silver coating. 
Effetre Mirror: This is made using mouth blown Venetian glass from Murano that is hand silvered with Silver Nitrate and therefore ripples, bubbles and other textural elements are considered desirable as they bring life. 
Regalia: Chinese stained glass that is mirrored using Stannous Chloride a cheaper substitute for silvering in an industrial process on Chinese stained glass.
We wrap and package orders carefully to avoid damage and breakage, however, due to the nature of glass, ceramic, and porcelain, damage may occur in shipping. All tiles and accessories are shipped at your own risk.
・PLEASE NOTE THAT THIS PRODUCT IS SHIPPED AT YOUR OWN RISK・